When you're marketing your business, it's essential to consider what will attract your prospective clients or customer base.
Using customized gifts and gift sets quickly set corporations apart…if you choose wisely. No matter whether you're handing out items at an event or using promotional merchandise for marketing, both candy and candles are usually big hits.
So, why not both? What about combining candy and a candle?
This unique gift set will undeniably set you apart and keep your business in the front of your audience's mind.
But how do you determine what candle scents and candy flavors will appeal to your audience? (And which ones simply don't?)
Read on to learn about some ways your business can decide which candy and candle combinations are right for your customers.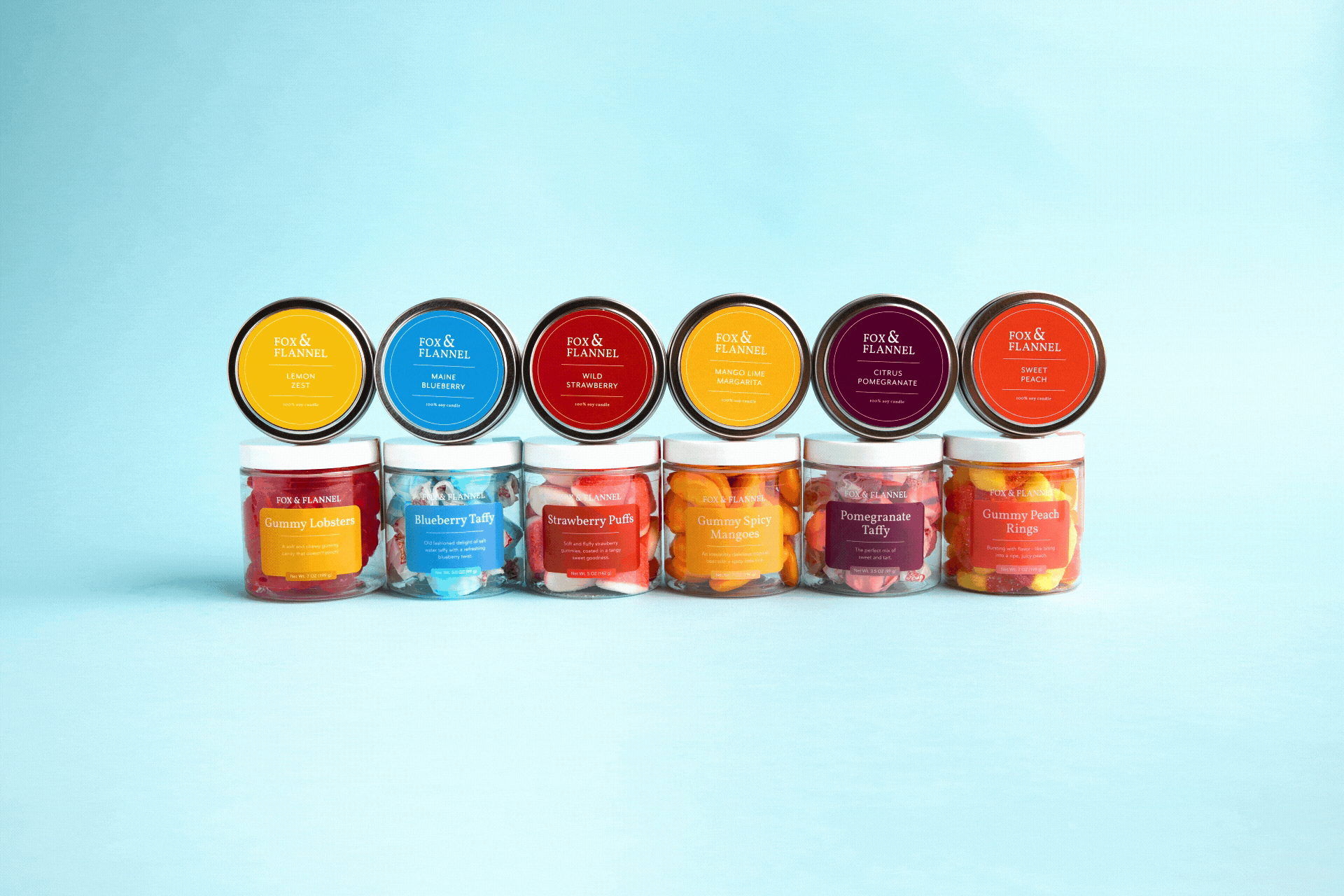 4 Ways to Choose the Best Candle & Candy Combination
Choosing the best candle and candy combination can be daunting, but it doesn't have to be! Here are four key things to keep in mind when making your selection.
1. Consider Your Company Branding and Color Palette.
Starting simply, consider the basics: what are the colors in your company's color palette? Color is an excellent way to align your business with the gift itself to keep everything cohesive.
Here are some ideas for both scents and flavors for your brand colors:
Yellow: lemon, pineapple, banana, pina colada, lemon meringue
Orange: orange, mandarin, peach, grapefruit, melon, pumpkin, apricot, amber
Red: strawberry, red ginger, rose, cherry, apple, pomegranate, cranberries
Pink: watermelon, bubblegum, cotton candy, guava
Purple: violet, passionfruit, grape, acai, lavender, hyacinth
Blue: blueberry, ocean, blue raspberry
Green: melon, mint, eucalyptus, grass, tea, spearmint, patchouli
Black: anise, black pepper, black licorice, black currant, blackberries
Brown: cedar, oak, bacon, coffee, toast, hazelnut, chocolate, honey, caramel
White: vanilla, jasmine, clean laundry, chamomile
You can also pull inspiration from your branding. Does your company's logo, name, or tagline incorporate anything that could naturally segway into a candle scent or candy flavor?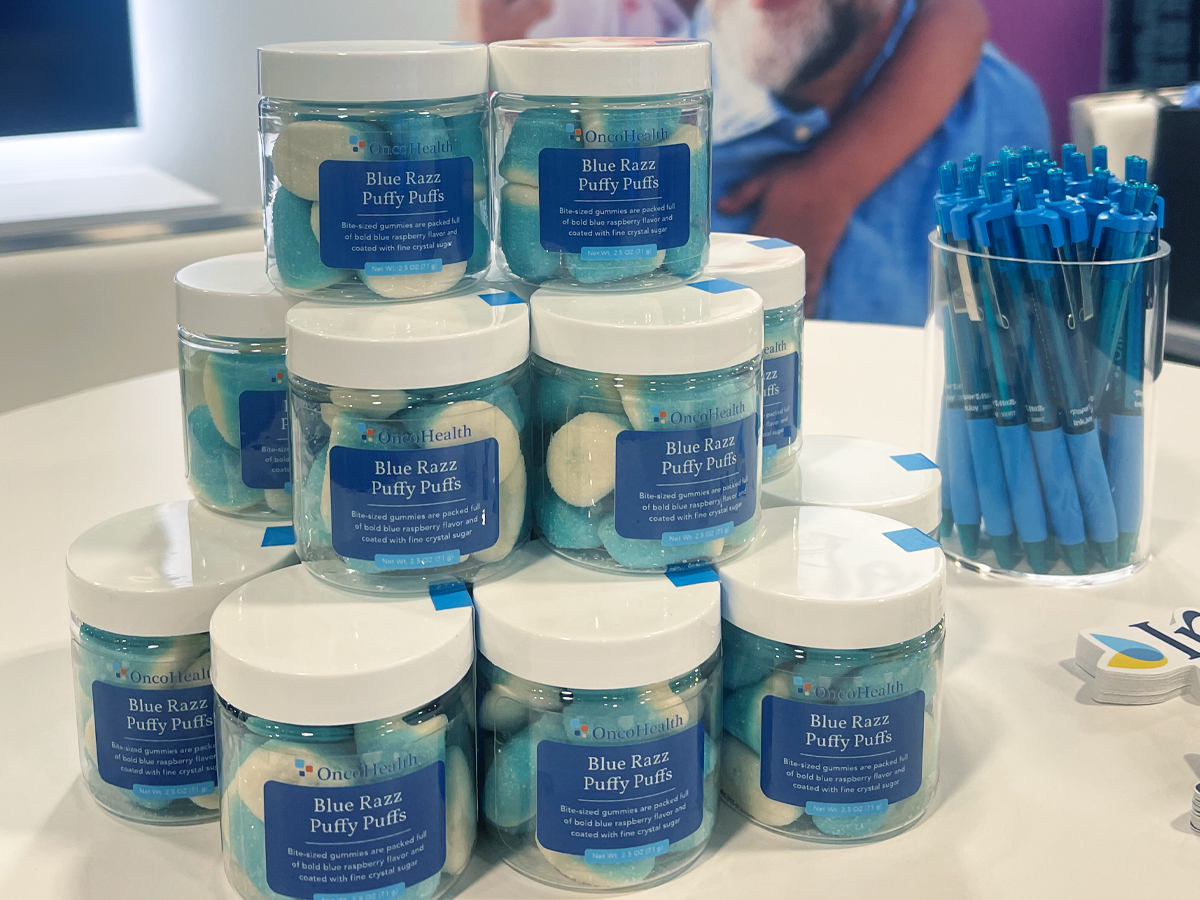 With bright blues in mind, our client OncoHealth featured their logo and tastefully selected Blue Raspberry Puffs to match their branding.
Get started by customizing Sweet Wicks for your business.
2. Consider the Occasion.
Are you looking for conference swag or a gift for internal employees? The tone of your corporate gift should dictate the style of your candle and candy pairing.
Time of year or season is another important consideration — are you handing out team-building activity gifts in the middle of the summer? Or giving away gifts after a holiday gala or fundraiser?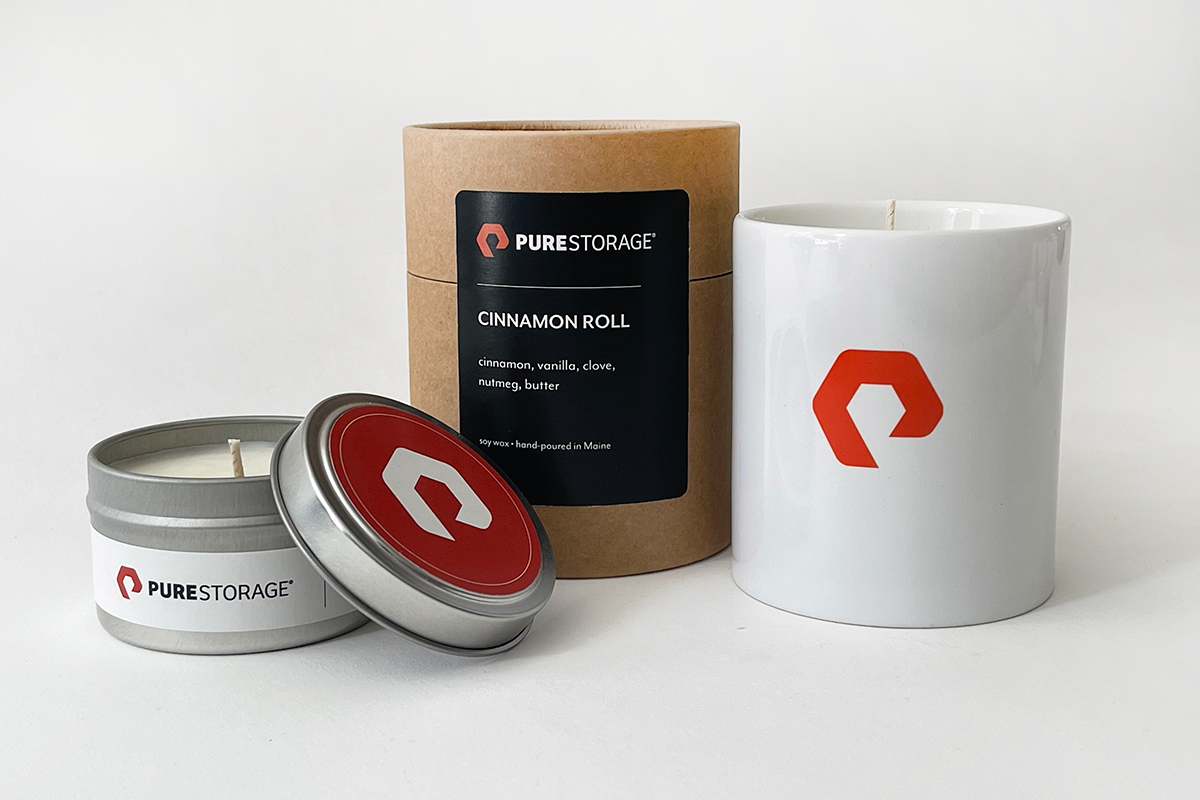 Pure Storage sent elegantly branded, ceramic, cinnamon roll candles to their customers during holidays to show how much they value them.
Get started by customizing Sweet Wicks for your business.
3. Think About Scent.
What kind of mood do you want to create? A floral fragrance might be perfect for a light-hearted summertime corporate BBQ favor, while a sweet and spicy scent could be just the thing for a holiday party gift.
Plus, remember back when we talked about branding? Scent can align closely with your brand colors, name or event theme.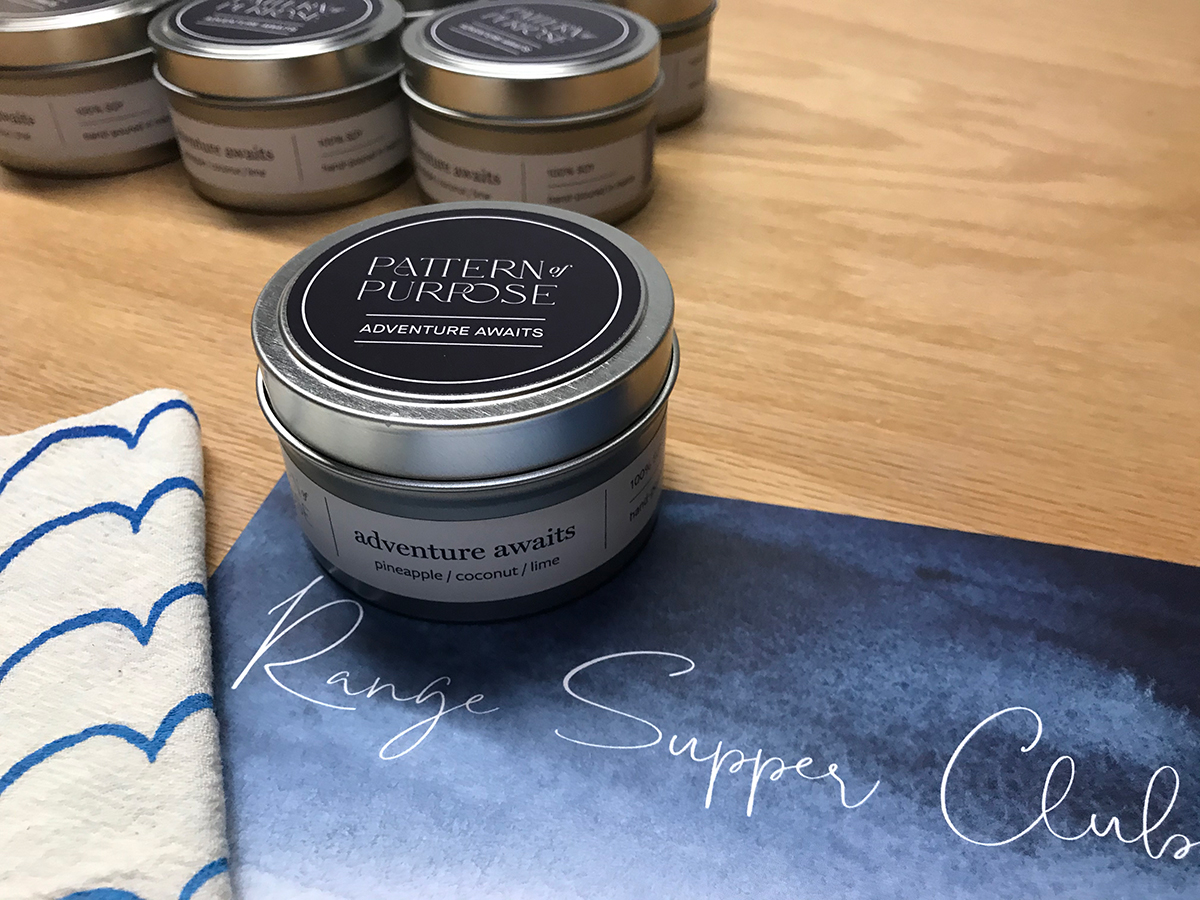 For their online supper club discussing travel plans, Pattern of Purpose ordered an "Adventure Awaits" candle that transported participants to the tropics with an exotic blend of pineapple, coconut, and lime scents.
Get started by customizing Sweet Wicks for your business.
4. Don't Forget About Flavor!
The flavor you choose is vital. After all, if you pair the perfect candle with candy, customers will be eating the candy as well as smelling the candle.
It's important to balance the two scents and choose both a candle and candy flavor you know your audience will enjoy.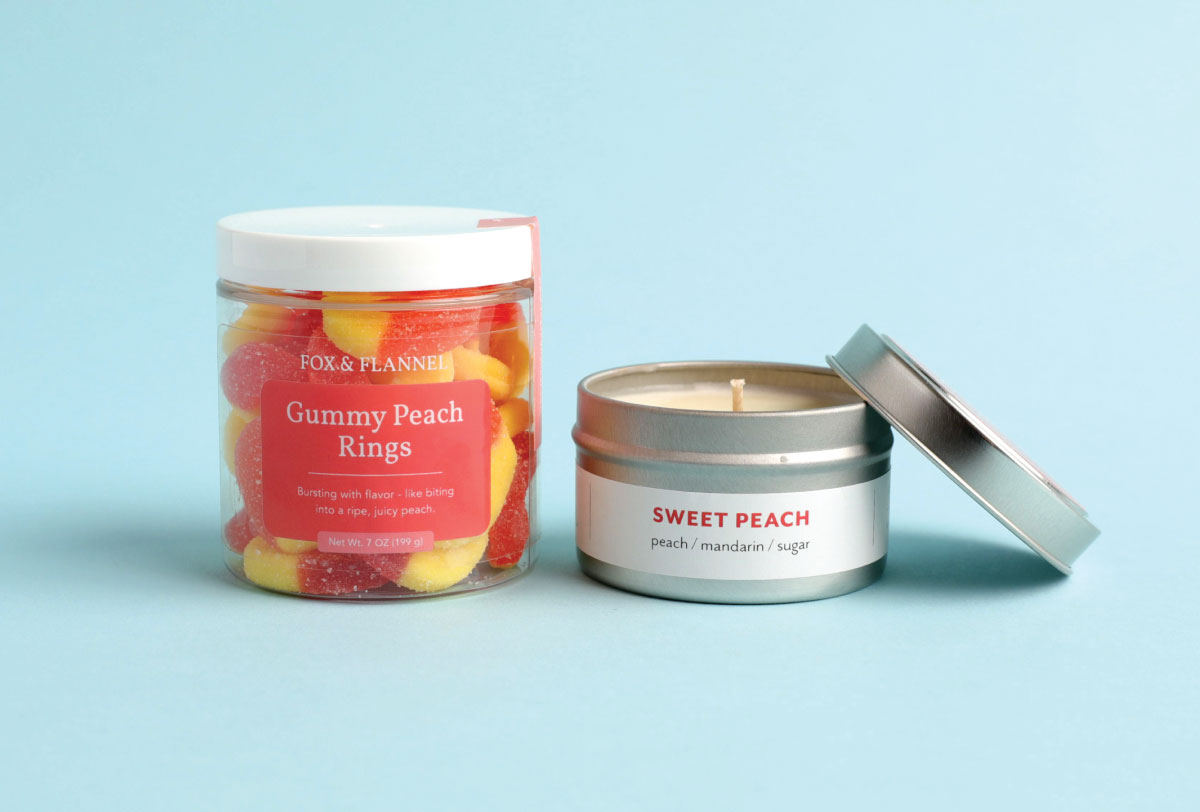 Comcast wanted a fun, fresh gift to show their appreciation for their employees over the summer. Sweet, juicy Gummi Peach Rings paired with Artisan Marketing Group's Sweet Peach candle (an all-time favorite) was a real crowd-pleaser.
Get started by customizing Sweet Wicks for your business.
Let Us Help You Choose the Perfect Candy & Candle Gift Set for Your Customers
Here at Artisan Marketing Group, we won't leave your customers with another branded pen they don't need or an unremarkable gift basket they never open.
Instead, impress your clients and leads with a custom pairing that's sure to wow them. Introducing: the Sweet Wicks Collection.
With the combined pairing of a sweet, delicious treat along with a luxurious candle, every customer that receives a Sweet Wicks set won't soon forget you. That's because the memorable gift set can be easily customized for your unique brand.

---
So if you're struggling to find the perfect gift set for your customers, look no further than the Sweet Wicks Collection.
Our experienced design and branding team works diligently to find the perfect pairing for your business, based on the four factors we talked about above: color and branding, occasion, flavor, and scent.
Your customers will love the creative and unique spin on effortlessly pairing two classic gifts, complete with your custom logo and branding.